🎉 More than 1732 users already trust AKUDEX. 🎉
Now also as an app
The digital acupuncture atlas
For the pocket -
Start your 7-day free trial now
Quick lookup of acupuncture points of the body and ear - inspirations of new therapy concepts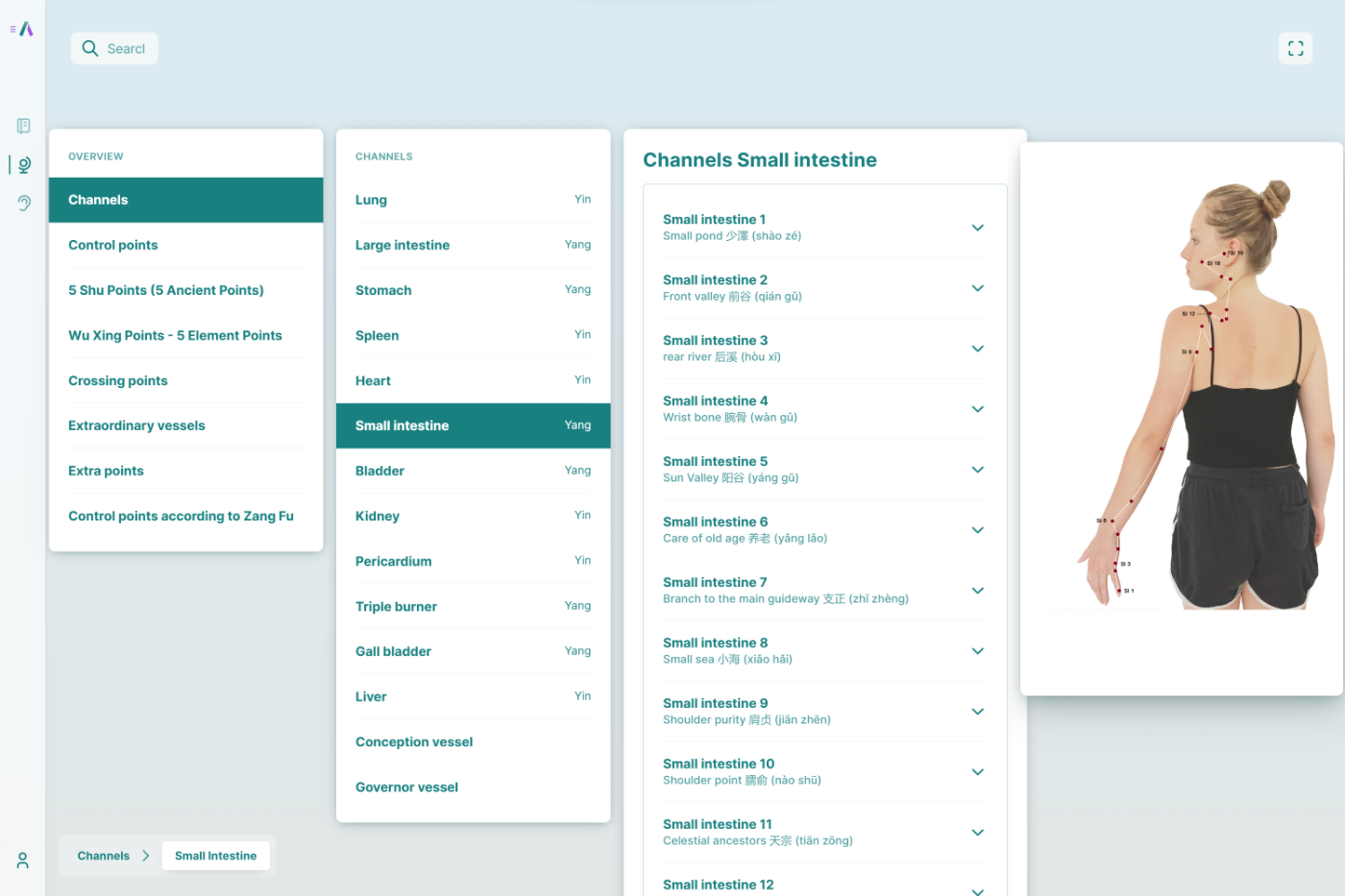 All information in one place
Overview of all 361 classical acupuncture points and 48 extra points as well as over 180 ear points
Acupuncture and science - brief summary of the evidence.
Therapy examples from common leading symptoms
Offline access
With the AKUDEX Acupuncture App you have offline access to all text contents of the encyclopedia, the acupuncture atlas as well as descriptions of the ear acupuncture points. Get your answers anytime and anywhere.
What other customers say about AKUDEX
Schönes Programm für das Lernen der Akupunktur, super geeignet für Anfänger!
Durch eine Empfehlung von Kollegen bin ich auf das Lernprogramm Akudex gestoßen. Es ist eine prima Ergänzung zu den Kursunterlagen für die Akupunktur Prüfung und hat mir den Einstieg erleichtert und f...
Draken990
Must have App
Die App ist sehr sehr schön und übersichtlich strukturiert, das macht das Nachschlagen und Verstehen der super ausgewählten Inhalte sehr einfach! Beide Daumen nach oben 👍🏽
rvrntmns
Überraschend Gut
Ich habe lange auf eine gute Alternative zum "Handbuch Akupunktur" gewartet. Während meines Urlaubs konnte ich das Werk endlich genauer unter die Lupe nehmen. Kann es nur jedem Kollegen empfehlen.
der Kürbis
Der Amboss der Akupunktur
Perfektes Nachschlagewerk für die Kitteltasche. Schöne Abbildungen und gute Referenzen auf die Quellen.
xtypax
Sehr hilfreich!
Die App gefällt mir sehr und ist toll zum Lernen. Man bekommt einen guten Überblick über alle Akupunkturpunkte.
Aku_Andreas
Akudex ist Perfekt
Akudex ist super einfach zu bedienen, tolle App, hilft beim lernen Danke
/€72€/!-@,2&-9,!:€&2
Alles in einem Paket
Endlich gibt es eine übergreifende App speziell für Anfänger.
Chinnyg945
Super Hilfe für meine Prüfung
Ich hatte bislang keinen Durchblick, endlich gibt es eine übersichtliche App mit guter Didaktik.
Saltyced
Super Atlas
Anschauliches und wertvolles Nachschlagewerk
Ein grosser Fan
Tolle App!
Die App ist echt super zum Lernen und hat ein schönes Design!
Dr. Gelf
Super App für Anfänger
Endlich eine App, die mir super durch die Prüfung geholfen hat. Das mit dem Ohr hat super geholfen.
Dang987
Professional
I am using it for a couple of days still discovering it but I am pretty sure I am going to subscribe for a year. Really organized, easy to use giving you a clear way how to browse among these incredib...
rendzsaw
Alles bestens!
Alles bestens!
ManjiroSaanoo
Super Hilfreich zum Nachschlagen und zur Therapieplanung.
Dr. Leonhard Schütz
Von einem befreundeten Kollegen wurde mir diese App für die Akupunktur empfohlen. Akudex hat alle Erwartungen erfüllt. - Registrierung war einfach und komplikationlos. - übersichtliche Darstellung der...
Yan Hua
Ich muss erst rausfinden wie alles funktioniert. Bis jetzt angenehm angetan von der App.
Frank Zander
Highlights
Digital atlas
In AKUDEX Acupuncture you will find all 361 classical and 48 extra points of acupuncture.
Offline access
The Acupuncture atlas with ear acupuncture and TCM encyclopedia is accessible offline on smartphone and tablet.
Auricular acupuncture
Representation of the exact localization of over 180 ear points. Additional division into categories with examples of indications.
Chinese dietetics
The atlas contains more than 150 foods sorted by taste and temperature behavior based on the knowledge of TCM.
On the web and as an app
Online access via website from smartphone, tablet and laptop. App available for smartphone and tablet in Apple App Store and Google Play Store.
Deepening
Clear presentation of common clinical pictures with therapy examples and listing of frequently used acupuncture points.
Acupuncture points
Description of all 361 classical acupuncture points of TCM and 48 extra points. Classification according to function, pathway, 5 elements and master points.
Full text search
Quickly find content using targeted keyword searches through the entire encyclopedia including ear and body acupuncture points.
Therapy with ear acupuncture and body acupuncture
Presentation of leading symptoms with therapy suggestions for combined therapy.
Our price models
Encyclopedia
Evidence and treatment recommendations
Atlas
Body acupuncture atlas
Ear card
Clear learning of ear acupuncture
Full text search
Searching the AKUDEX database
>> No price increase in 3 years! <<